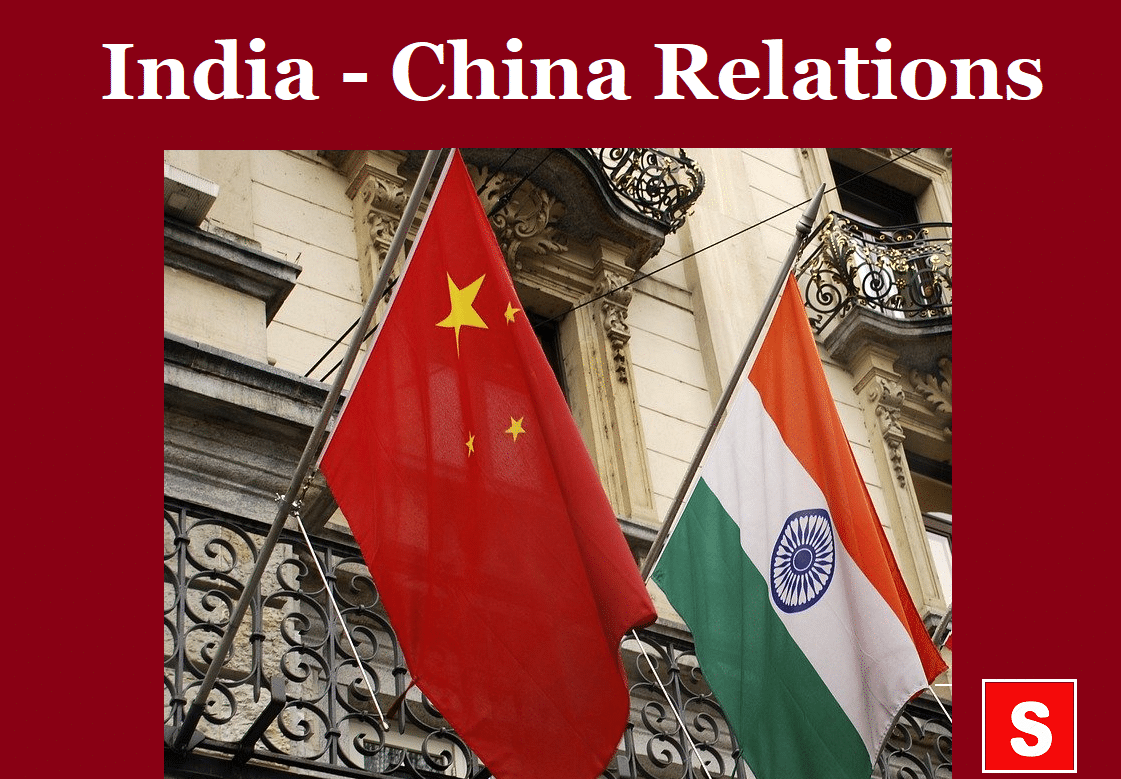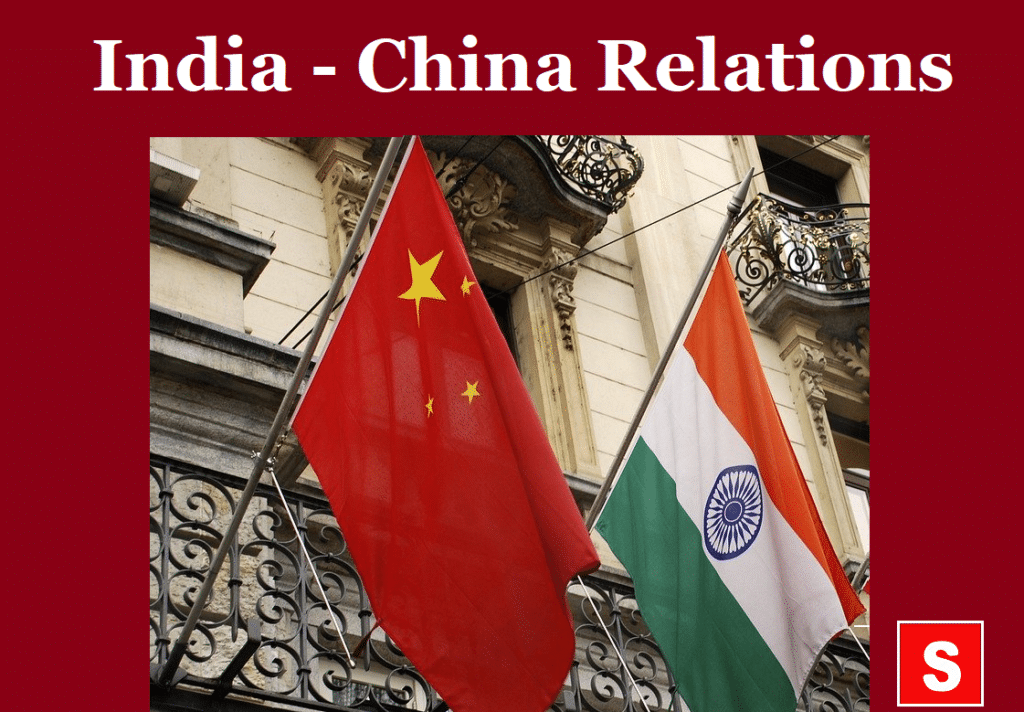 The recent Galwan valley incident at the LAC has again brought underlying tension in the Indo-China relations at the forefront. It is an important topic for the UPSC Mains examination. This article briefly covers India-China Relations post-1947.
India – China Political Relations
Post Independence, in 1950 India was among the first countries to formally recognize the People's Republic of China as the legitimate government of Mainland China. The diplomatic relations with the People's Republic of China were formally established on April 1, 1950. Prime Minister Jawahar Lal Nehru visited China in October 1954 which was followed by Chinese premier Zhou Enlai's India visit in 1956.
Tensions in 1950s & 1960s
By 1954, India updated its maps and boundaries and included entire Aksai Chin as part of its territory in the state of Jammu & Kashmir. Problems rose when India discovered that China had built a road through the region, in response to that, border clashes and Indian protests became more frequent. In January 1959, PRC premier Zhou Enlai wrote to Nehru, emphasizing that the Chinese Government had not accepted, McMahon Line, which the 1914 Simla Convention defined as the eastern section of the border between India and Tibet as a legal line to draw borders between the two nations.
In March 1959, the Dalai Lama, spiritual head of the Tibet, escaped to India and sought refuge in, Himachal Pradesh where he established the Tibetan government-in-exile. Thousands of Tibetan refugees settled in north-western India along with him. The Chinese accused India of adventurism and expansionism in Tibet. Further, China toughened its stance and claimed 104,000 km2 of territory over which India lay sovereignty, and demanded "rectification" of the entire border.
Resetting Ties in 1980s & 1990s
The brief border war of 1962 was a setback to the Indo-China ties. PM Nehru was shattered and his belief that China would never attack India was broken The visit of Prime Minister Rajiv Gandhi in 1988 marked the beginning of improvement in bilateral relations.
Further, it was in the year 1993, during the visit of Prime Minister Narasimha Rao, the signing of an Agreement on the Maintenance of Peace and Tranquility along the Line of Actual Control was concluded, which gave much-needed stability to the bilateral relations.
India – China Cultural Relations
The cultural ties between India-China flourished as early as 1500-1000 B.C in the form of linguistic exchanges between the Shang-Zhou civilization and the ancient Vedic civilization.
Post Christian era several Buddhist pilgrims and scholars traveled to China on the historic "silk route".
Notably, Kashyapa Matanga and Dharmaratna decided to receded at the White Horse monastery at Luoyang. Several Indian monks and scholars such as Kumarajiva, Bodhidharma, and Dharmakshema contributed to the spread of Buddhism in China.
Similarly, several Chinese pilgrims also undertook journeys to India, the most famous among them being Fa Xian and Xuan Zang
Visits of Heads of Government & Agreements
Prime Minister Narasimha Rao's visit to China in 1993- Agreement on the Maintenance of Peace and Tranquility along the Line of Actual Control.
Prime Minister Atal Bihari Vajpayee's visit to China in 2003- Comprehensive Cooperation and appointment of Special Representatives (SRs) to explore the framework of a boundary settlement.
Visit of Premier Wen Jiabao visit to India in April 2005 – Strategic and Cooperative Partnership for Peace and Prosperity.
President Xi Jinping's visit to India in September 2014- a Closer Developmental Partnership was forged besides a total of 16 agreements were signed in various sectors including, trade & commerce, railway infrastructure, space, Pharma sector, SEZ, and sister-city arrangements. The two sides also agreed to open the Nathu La route for Kailash Mansarovar Yatra.
Prime Minister Narendra Modi's visit to China in May 2015 – During the visit, PM Modi and Premier Li Keqiang addressed the First State/Provincial Leaders' Forum in Beijing. PM announced the extension of the e-visa facility for Chinese tourists to India.
In April 2018 – first Informal Summit in Wuhan to exchange views on issues of bilateral and global importance. Modi and Xi agreed to significantly enhance efforts to broaden the platform on which relationship is possible.
PM Modi attended the SCO Summit in Qingdao in June 2018. At a bilateral meeting with President Xi on the sidelines of this Summit, two agreements, relating to the provision of hydrological information of the Brahmaputra river, and on phytosanitary requirements for rice exports, were signed.
Commercial and Economic Relations
The trade and economic relationship between the Republic of India and China has seen a zoom within a previous couple of years. Trade volume between the two countries within the starting of the century, in the year 2000, stood at US$ 3 billion.
Bilateral trade took a sharp jump in the next eight years and reached US$ 51.8 billion by 2008. Henceforth China replaced the United States as India's largest commerce partner in merchandise.
With the onset of 2018, bilateral trade reached its peak and stood at US$ 95.54 billion. India's share of export was US$ 18.84 billion in the total bilateral trade of US$ 95.54 billion. India was the 7th largest importer of Chinese goods and services, while it stood at 27th in terms of the largest exporter to China.
India's primary export commodities to China include raw materials like cotton, metals like copper, and precious stones like diamonds/ natural gems. The majority of Chinese exports to India include heavy machinery and capital goods, telecommunication and power-related equipment, chemicals, and fertilizers.
Mounting Trade deficit-While India-China trade has grown substantially, it has also led to a monumental trade deficit, widest that India has with any trading partner. In the year, 2018, the trade deficit reached US $57.86 billion. The problem of trade imbalance and larger market access for Indian products like Pharma, IT/ITES, engineering, and agricultural products, oil-based products, meat products, cotton yarn/fabric has been raised by India on several forums.
Market access for India goods-During 2018, India succeeded in achieving market access for export of Indian Non-Basmati rice, rapeseed meal, fishmeal, and fish-oil. In 2019, similar market access for Indian tobacco leaves and chili meal was also achieved.
Also read: Brexit – How does it affect India, Britain, and the World?
Want to Clear IAS Exam in 2024?
Take IASSolution Mock Exams; Be a Master!
Take a FREE Test
YOGA as the Soft Power of India
The popularity of Yoga is increasingly rising in China. UN resolution that designated June 21 as the International Day of Yoga found China as one of its co-sponsors.
During the visit of PM Modi to China in May 2015, a Yoga-Taichi performance at the Temple of Heaven was organized, which was also attended by Premier Li Keqiang. Further, an agreement was signed to establish a Yoga College in Kunming, Yunnan Province.
Similarly in June 2017, a successful [email protected] Wall event was organized.
The year 2018, India became a full-time member of SCO, and a Yoga event was organized at the SCO Headquarters in Beijing.
Further in the year 2019, Yoga events were organized at several locations in Guiyang, Hubei, Henan and Shandong provinces.
Indian Diaspora
Present estimates put the tally of the Indian Diaspora in China at around 30,000, a major portion of which comprises of students. A number of Indians and PIOs are also working as professionals with various MNCs and Indian companies.
Galwan Valley Incident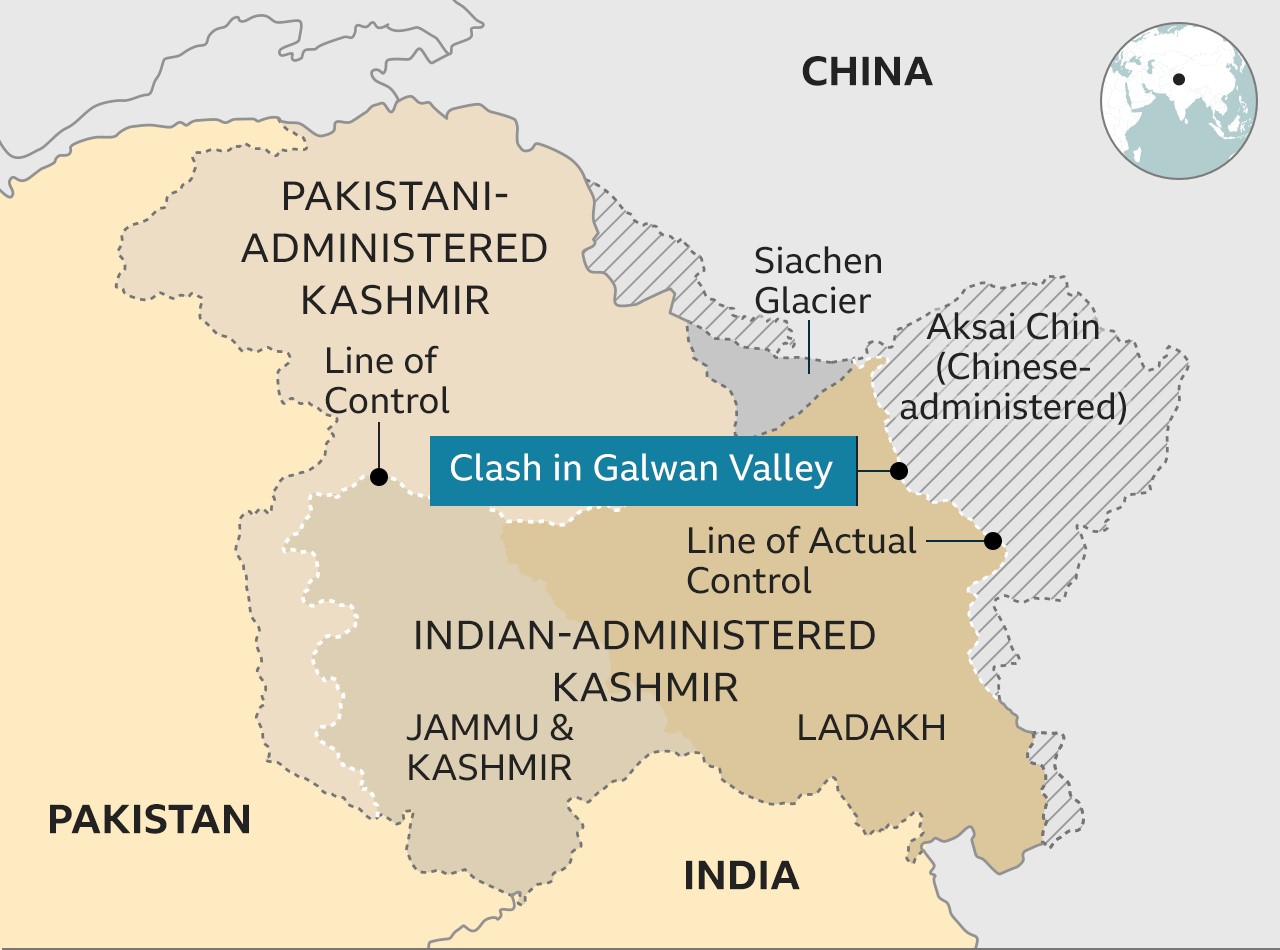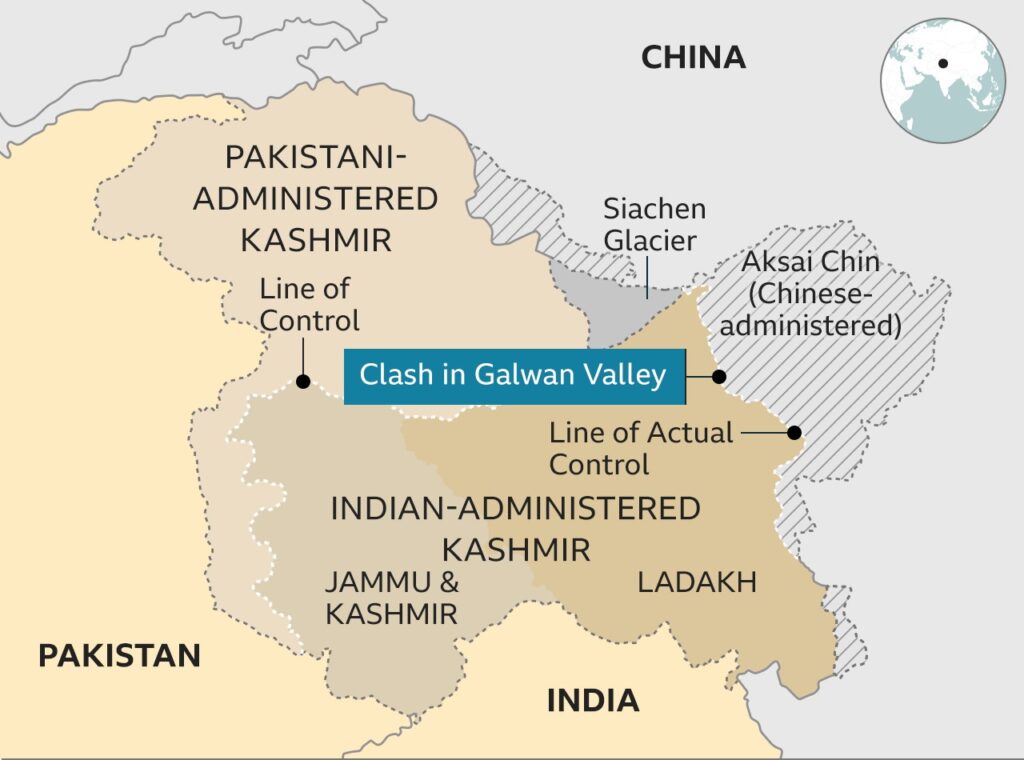 What happened?
There was a clash between Chinese and Indian forces deployed at Nathu La, Sikkim, on 10th May 2020, leaving 11 soldiers injured. Following this skirmish, tensions grew between the two sides on several parts of the LAC.
It was reported that Chinese forces had transgressed several kilometers into the Indian Territory near the Galway valley, Pangong Tso, and Hot springs area. In a scuffle relating to the removal of Chinese tents on the Indian side of LAC, 20 Indian and 43 PLA soldiers were reportedly killed in action on the night of 15/16 June.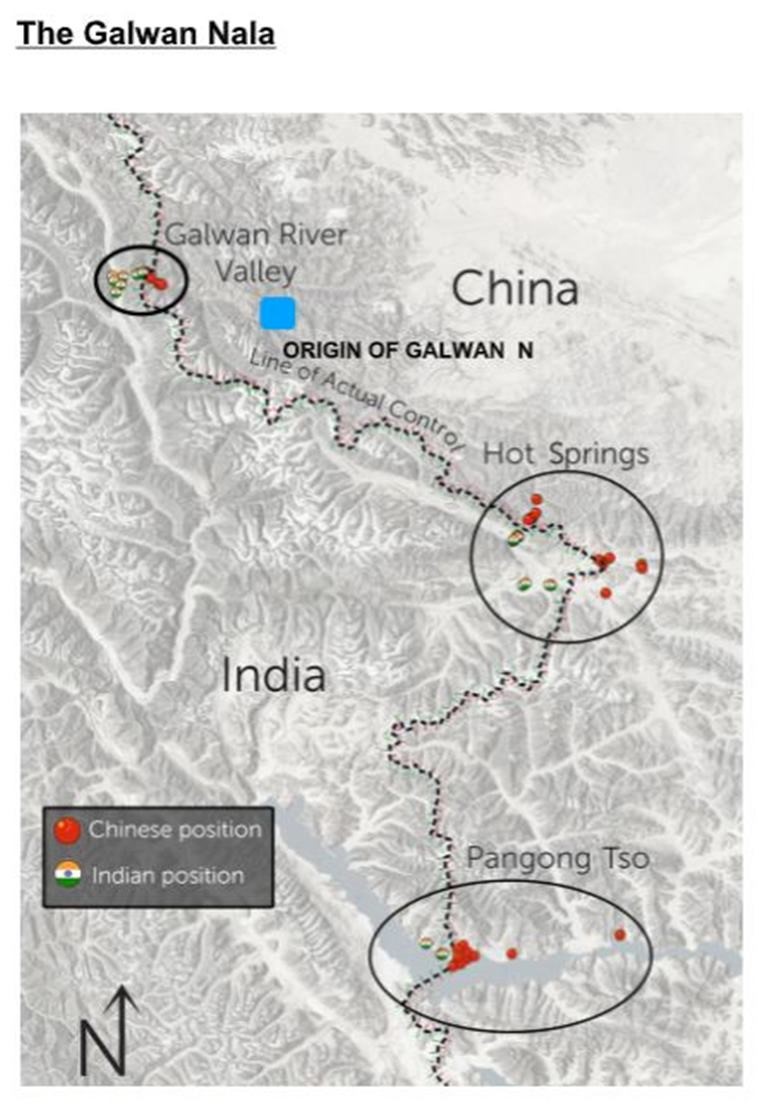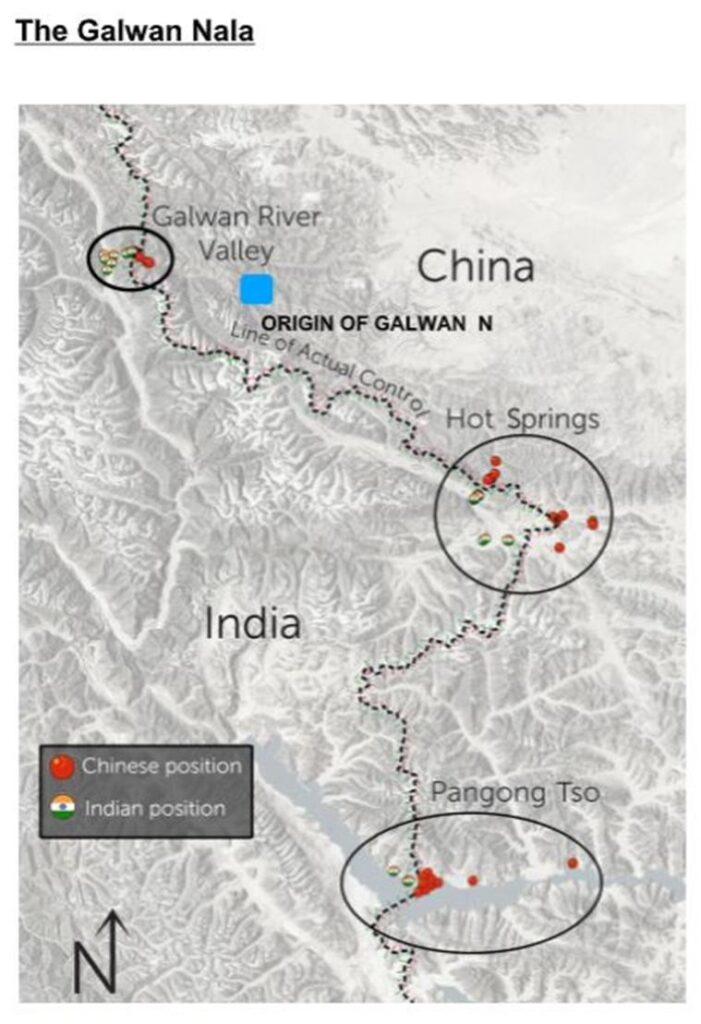 Why it happens?
In Ladakh, there is no concept of a bilaterally agreed and jointly demarcated line for an international boundary between India and China.
Due to an undefined LAC, the aim of both sides is to impose psychological sovereignty which is usually done in terms of domination by patrolling, improving accessibility, habitat, and defensive capability.
This leads to unintentional (at times intentional) transgressions by both sides into finger points.
The patrols are done till Patrol Points, which roughly corresponds to Indian or Chinese sides perception of the LAC.
Sometimes the offensive posturing by the Chinese is also to give a message to India to show who the big brother in Asia is, for example, Demchok incident during President Xi's visit to Gujarat, India.
Also read: South China sea and its geopolitical significance.
Russia-India-China Trilateral meeting 2020
The Chinese Minister of Defence Wei Fenghe and Indian Minister of Defence Rajnath Singh were slated to meet at Russian Victory Day Parade in Moscow on 23 June to discuss a way to defuse tensions, but the bilateral meeting was ultimately cancelled. There have been several rounds of talks and bilateral discussions regarding the LAC tension between Corps-level military commanders.
Indian response so far
On 29 June, the Indian government banned 59 widely-used Chinese mobile phone and desktop applications.
Way Forward
Efforts should be made at the military as wells as diplomatically to defuse the tensions as soon as possible. The mounting trade deficit should be the core concern of India and reliance on Chinese imports should be minimized. The difference in the capability of the Armed forces should be reduced through modernization and defense reforms. Focus on Border Area developments along with engagement at bilateral and multilateral forums should be encouraged. As S Jaishanker had said in Astana, that Differences should not become disputes in India-China relations.
References
www.wikipedia.co.in
www.diplomatist.com
Article by: Swapnil Yadav. The author is a UPSC Topper, AIR 591, UPSC CSE 2017