IAS Exam Eligibility: Minimum Educational Qualifications Number of Attempts
The IAS Exam, conducted by the Union Public Service Commission (UPSC), is a gateway to a fulfilling career in the government sector and an opportunity to contribute to the development of the nation. To be eligible for the IAS exam, candidates must meet certain criteria set by the UPSC. The eligibility criteria for the IAS exam include:
UPSC Exam Eligibility
Minimum Educational Qualifications
An Indian with any degree from [ For IAS and IPS]
Any of the universities incorporated by an act of central or state legislature in India.
Other educational institutions were established by the act of parliament.
Or a deemed university as per section 3 of the university grants commission act, 1965.
Posses an equivalent qualification.
Final-year students and candidates awaiting results can also apply. Results need to submit at the time of filing the application for mains exam.
No percentage bar for any of the services.
Nationality
Candidates must be Indian citizens, or subjects of Nepal, Bhutan, or Tibet (who came to India before January 1, 1962), or individuals of Indian origin who have migrated from Pakistan, Burma, Sri Lanka, East African countries of Kenya, Uganda, the United Republic of Tanzania, Zambia, Malawi, Zaire, Ethiopia, or Vietnam with the intention of permanently settling in India.
IAS Age limit
For all categories, the lower age limit for appearing UPSC examination is 21 years. Age limit is calculated according to August 1. For example, if a candidate is appearing for 2018 prelims, he/she should have attained 21 years on August 1, 2018.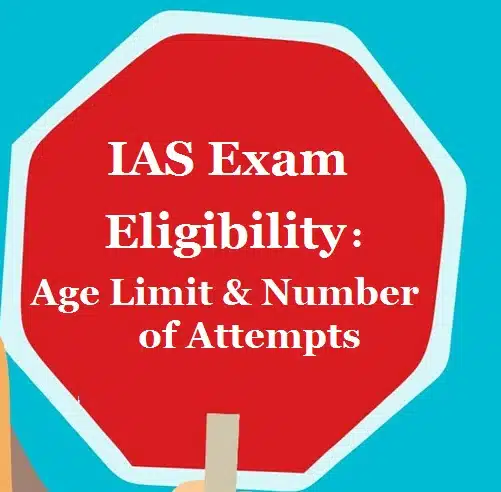 The upper age limit varies from category to category. For many years, UPSC Age limit was 30 for general category candidates, 33 years for OBCs and 35 years for SC and ST candidates. The then UPA government in 2014, increased upsc7 age limit for IAS examination.
Want to Clear IAS Exam in 2024?
Take IASSolution Mock Exams; Be a Master!
Take a FREE Test
Currently, the UPSC  Age limit for General Category candidates is 32 years and 35 and 37 years respectively for OBC and SC & ST candidates as of 1st August 2024 for IAS Exam 2024. Along with upper age relaxation, the number of attempts has also increased. Due to an uproar over General Studies Paper 2, the then UPA government relaxed the age limit.
| | |
| --- | --- |
| Category | UPSC Age limit |
| General | 32 |
| OBC | 35 |
| SC/ST | 37 |
| Citizens of Jammu and Kashmir | 37 |
| Defense personnel disabled in operations during hostilities with foreign countries or disturbed area | 35 |
| Ex-servicemen | 37 |
| Physically handicapped/disabled | 42 |
Apart from mentioned upsc age limit for SC/ST and OBC candidates will get cumulative age relaxation. In other words, age limits added in special cases. For example, if a person is OBC and ex-serviceman, he will get 5+7= 12 years of relaxation. Hence, his upper age limit will be 42 years.
Physical Fitness:
Candidates must be physically fit and meet the physical standards set by the UPSC.
Number of Attempts Allowed
In UPSC Civil Service Exam, General Category candidate has an age limit of 32 years which does not mean he can sit for the exam any number of times till his maximum age limit attains. There are some certain criteria for various categories in number of attempts along with age limit.
Number of attempts permitted for General Category: 6 attempts up to 32 years
Number of attempts permitted for OBC: 9 attempts up to 35 years
The number of attempts for SC/ST: Unlimited attempts till 37 year
UPSC Syllabus for Civil Services Prelims and Mains Exam
Will IAS Exam Eligibility Criteria Change in the Future?
The IAS exam eligibility criteria are subject to change, and candidates are advised to refer to the official UPSC notification for the most up-to-date information.
With the IAS exam being highly competitive, it is crucial for aspirants to thoroughly understand and fulfill the eligibility criteria before applying. Meeting the eligibility requirements is the first step towards realizing the dream of becoming a civil servant and making a meaningful contribution to the nation's governance and development.