UPSC Notification 2021 for Civil Services Exam(CSE 2021) released: Last date of Applications is March 24, 2021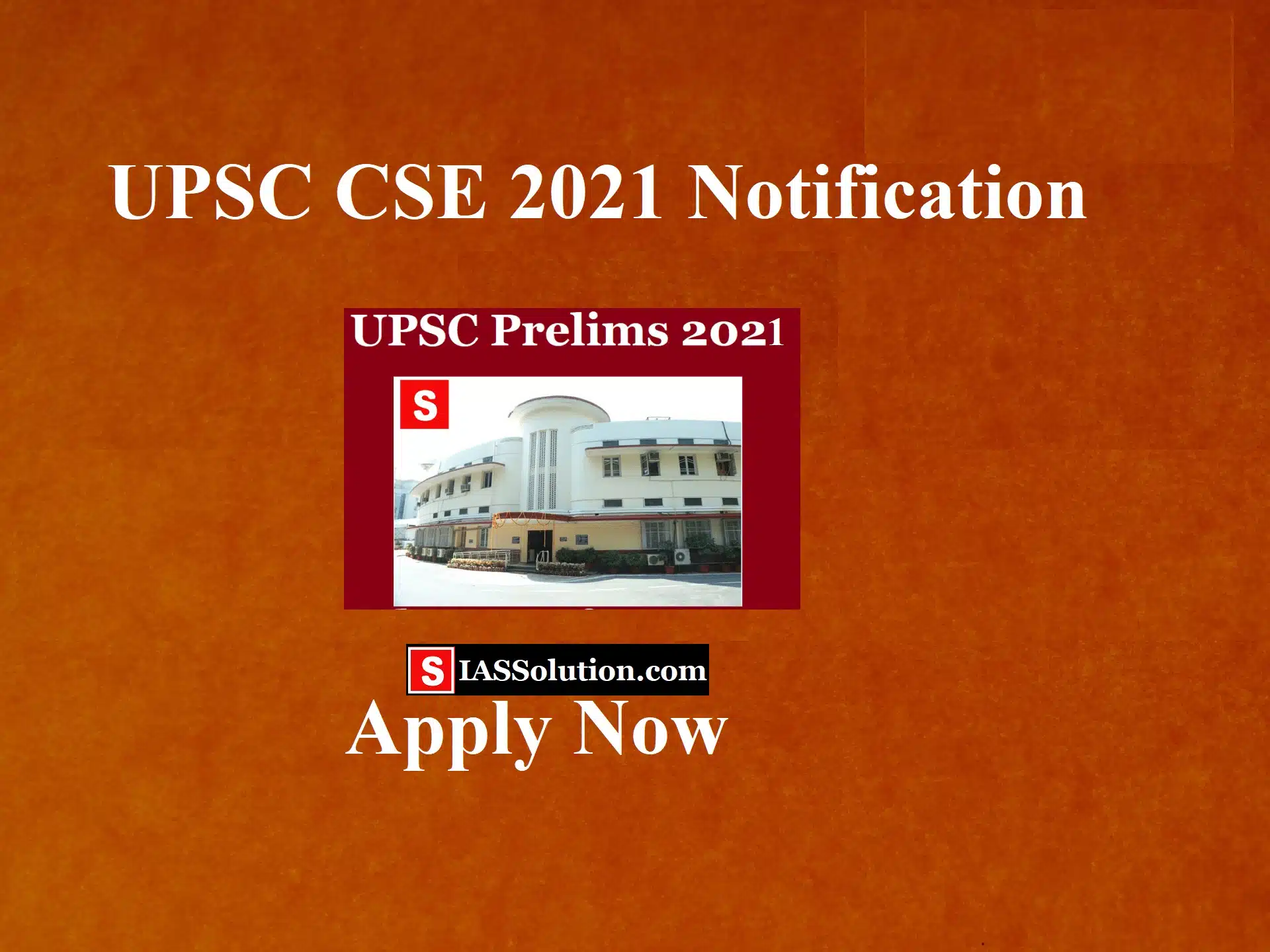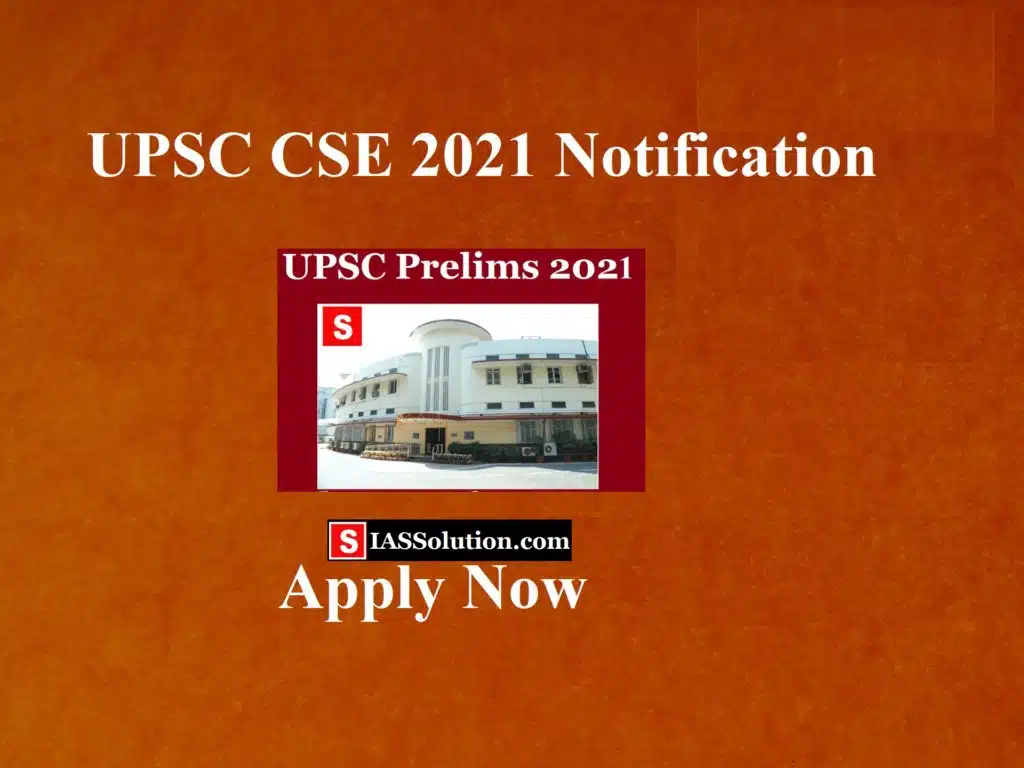 UPSC published separate Notifications for both Civil Services Exam 2021 (CSE 2021) and Indian Forest Service Exam. IAS, IFS, and IPS vacancies are filled through the CSE 2021.
You can download the official document from the below links.
The official notification PDF contains UPSC Syllabus, Exam Pattern, Age Limit, and Physical & Medical Requirements etc.
N.B: Candidates are advised to apply online using the website https://www.upsconline.nic.in
Number Vacancies for UPSC CSE 2021: 712 Slots
The number of vacancies to be filled through the examination is expected to be approximately
712 which includes 22 vacancies reserved for Persons with Benchmark Disability Category. The final number of vacancies may undergo change after getting firm number of vacancies from Cadre Controlling Authorities.
Last Date for CSE 2021 Online Applications
The Online Applications can be filled up to March 24, 2021 till 6:00 P.M. after which the link will be disabled. Detailed instructions regarding filling online applications are available at the detailed notification.
Withdrawal of UPSC CSE  2021 Applications
The online Applications can be withdrawn from 31st March 2021 to 6th April 2021 till 6.00 PM after which the link will be disabled.
UPSC Civil Services Exam 2021 Calendar – Important Dates
Civil Services Prelims and Indian Forest Service Prelims Date of Notification: March 04, 2021
Last date to apply for Civil Service Prelims and Indian Forest Service Prelims: March 24, 2021
Date of UPSC Civil Service Prelims Exam 2021 and IFS Prelims  Exam 2021: June 27, 2021
Results Date of UPSC Civil Service and IFoS Preliminary: July 19, 2021
Date of UPSC Civil Service Mains Exam 2021: Likely to be held on  September 17, 2021 
Exam Date of UPSC IFS Mains 2019: November 21, 2020
Date of UPSC IFS Personality Test (Interview) 2021-21: January 2022 (Only for IFoS  Aspirants)
Date of UPSC CSE Personality Test (Interview) 2021-21: February-March 2022
Note: The dates of notification, commencement, and duration of Examinations are liable to alteration if the circumstances so warrant.
Want to Clear IAS Exam in 2024?
Take IASSolution Mock Exams; Be a Master!
Take a FREE Test
UPSC CSE Exam 2021 Fees – Rs.100 for General/OBC (Male)
The aspirants are required to pay a fee of Rs.100/- ( One Hundred Rupees only).
SC/ST/ Female/Persons with Benchmark Disability candidates are exempted from payment of the fees.
The fees can be paid either by depositing the money in any branch of State Bank of India by cash, or by using net banking facility of State Bank of India or by using any Visa/Master/RuPay Credit/ Debit Card.
Need to upload Photo, Signature, and Photo ID card
Before start filling up of Online Application, a candidate must have his/her photograph and signature duly scanned in the jpg format in such a manner that each file should not exceed 40 KB and must not be less than 3 KB in size for the photograph and 1 KB for the signature.
Candidate should have details of one Photo ID Card viz. Aadhaar Card/Voter Card/PAN Card/Passport/Driving Licence/Any other Photo ID Card issued by the State/Central Government. The details of this Photo ID Card will have to be provided by the candidate while filling up the online application form. The candidates will have to upload a scanned copy of the Photo ID whose details have been provided in the online application by him/her. This Photo ID Card will be used for all future referencing and the candidate is advised to carry this Photo ID Card while appearing for the Examination/Personality Test.
Is there any changes in UPSC Civil Services Exam 2021 as compared to Previous Years?
Yes, there is a change in the notification of the UPSC Civil Services Exam 2020. This time Government allowed a 10 percent reservation for EWS Category (General Category) included in the notification. However, there is no age relaxation or attempt as per EWS Reservation as per Union Government announced.
UPSC Prelims Test Series 2021 – Enroll now to avail 50% Off!
Number of vacancies
The expected number of vacancies upon the final result is 712 which is slightly less than the previous year vacancy which is 782 in the exact number. Furthermore, this includes seats for reserved categories such as SC/ST, OBC, General EWS, etc.