UPSC Cut Off Marks 2018– Know the Minimum Required Marks for IAS/IPS Exam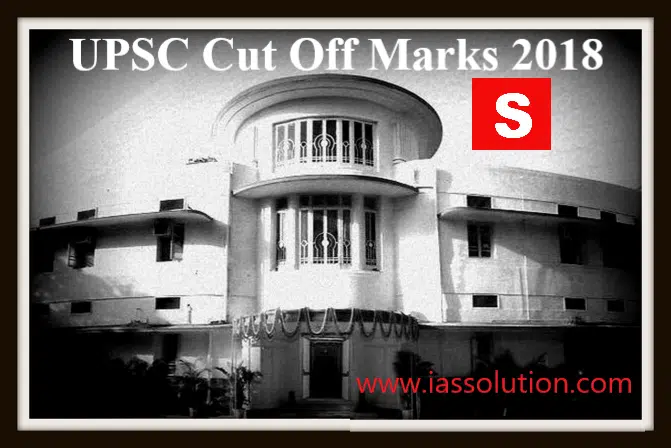 UPSC Cut Off Marks 2018 for IAS Prelims, Mains and Interview have released. The long wait for the minimum required marks to qualify for UPSC Civil Services Exam 2018 is now ends.
UPSC Prelims Cut Off Marks 2018
After the exam date of UPSC Prelims 2018, there were many speculations and predictions regarding the UPSC Cut off Marks. Now an end to all rumors, UPSC released Cut off Marks for Civil Service Exam 2018.
General – 98.00
OBC – 96.66
SC –  84.00
ST – 83.34
PwBD‐1 – 73.34
PwBD‐2 – 53.34
PwBD‐3 – 40.00
PwBD‐5 – 45.34
EWS – NA
Note: UPSC Cut off Marks 2018 on the basis of GS Paper‐I only. However, General Studies Paper-II was of qualifying in nature, with 33% marks as per Rule 15 of Civil Services Examination, 2018.
UPSC Mains Cut Off Marks 2018
General – 774
OBC – 732
SC – 719
ST – 719
PwBD‐1 – 711
PwBD‐2 – 696
PwBD‐3 – 520
PwBD‐5 – 460
Note: Subject to 10% marks in each of the seven competitive papers i.e. Essay, GS‐I, GS‐II, GS‐III, GS‐IV, Optional‐I, and Optional‐II.
UPSC Final Cut Off Marks 2018 (Written+ Interview Marks Out of 2025)
General – 982
OBC – 938
SC – 912
ST – 912
PwBD‐1 – 899
PwBD‐2 – 908
PwBD‐3 – 754
PwBD‐5 – 718
UPSC Cut Off Marks Analysis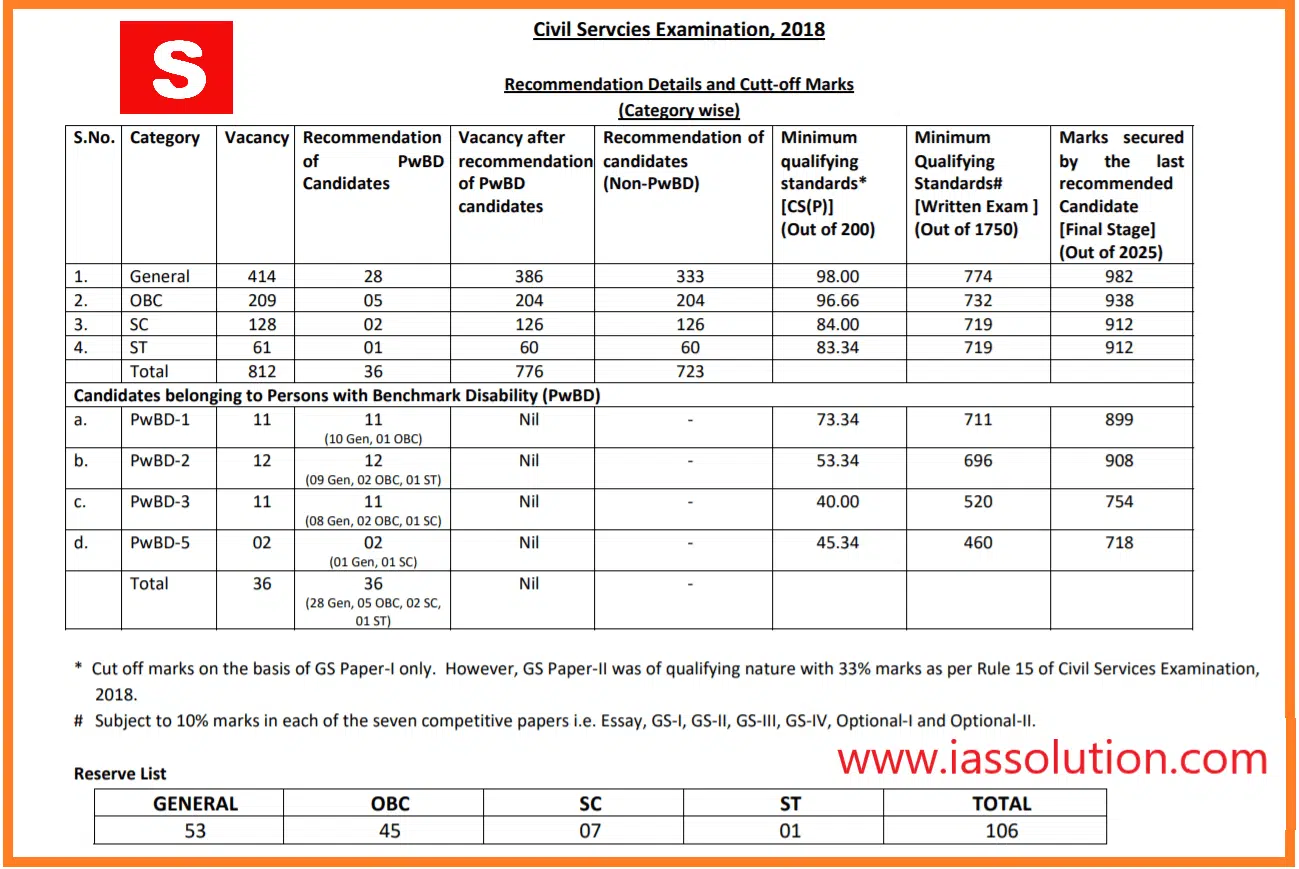 Every year lakhs of aspirants apply for UPSC examinations and only a few percentages of candidates get into service. In 2018, around 11 lakhs registered for IAS exams and only around 4.5 lakhs candidates appeared for the exams. Out of these 4.5 lakh aspirants, only around 15000 candidates were able to clear prelims. From these 15000 candidates, approximately 759 candidates were able to get into service.
After making CSAT just qualifying paper, GS Paper 1 Cut off Marks gradually came down except in 2016. General Category Cut off Marks for Prelims is 98.00 in 2018 which just 49 percent to clear the IAS Prelims 2018.
Want to Clear IAS Exam in 2024?
Take IASSolution Mock Exams; Be a Master!
Take a FREE Test
UPSC Prelims Cut Off Marks for the general category were 105.34 In 2017, 116 in 2016 and 107.33 in 2015. We can see that Cut off Marks for UPSC Prelims is always above 100 before 2018.
Also, UPSC Mains Cut off marks for the general category is 774 marks in 2018  whereas, 809 marks in 2017, 787 in 2016, 676 in 2015.
For getting into most coveted services of the country, in 2018 an open category candidate should have scored above 982 marks out of 2025 (48.5 percent). This means that a general category candidate needs to score 49% of marks in the last year UPSC Exam.
Want to avoid repeating Mistakes?
Maybe many of you are close enough to clear cut-offs but fail to avoid mistakes. In fact, this is a continuing story in most of the cases. The only solution to avoid such mistakes is by practicing more and more. UPSC Prelims is approaching in just 2 months away.
If you make mistakes in practice tests then you have the option to not to repeat the mistake in the next test. In that way, you can reduce the errors and make sure that you will clear prelims.
To get the upper hand in Prelims, you need to join IASSolution Prelims Test Series .
Don't be late and think too much. The door to Mains not yet closed.
Conclusion
UPSC Civil Services Exam is considered as the toughest exam in the world itself. Compared to other exams, this exam refines and finds the most qualified candidates which mean you cannot get into the service by just memorise the books. Moreover,  This exam is most dynamic in nature.
In the past years, many of the graduates are even feared to think to write Civil Services Exam. Nowadays, the attitude of the candidates has been changed. Before 2011, 4.5 to 5 lakhs candidates applied for the exam and around 2.5 lakhs appeared for Exam. Now around 10 lakh candidates are applying for the exam while around 5 lakhs sits for the exam.
Then also, the Civil Services Exam remains as a low scoring exam due to its toughness and dynamic nature. Cut off Marks for UPSC Civil Services Exam depends upon many factors like the number of candidates appeared, vacancies, the difficulty level of the paper, etc. However, those who prepared seriously on the right strategy and proper practice will clear the hurdle.