Jallikattu – Everything you know about
Jallikattu or sallikkattu also known as eru thazhuvuthal or manju virattu is a traditional cultural event practiced in the state of Tamil Nadu. This event takes place on the third day of four day Pongal celebrations. The term Jallikattu derived from two Tamil words ''jalli'' means gold or silver coins and ''kettu'' refers to tied. Therefore, combined together refers to gold or silver coins tied on bull's horns. In this event, special breeds of bulls such as Pulikulam breed or Kangayam breed are being used.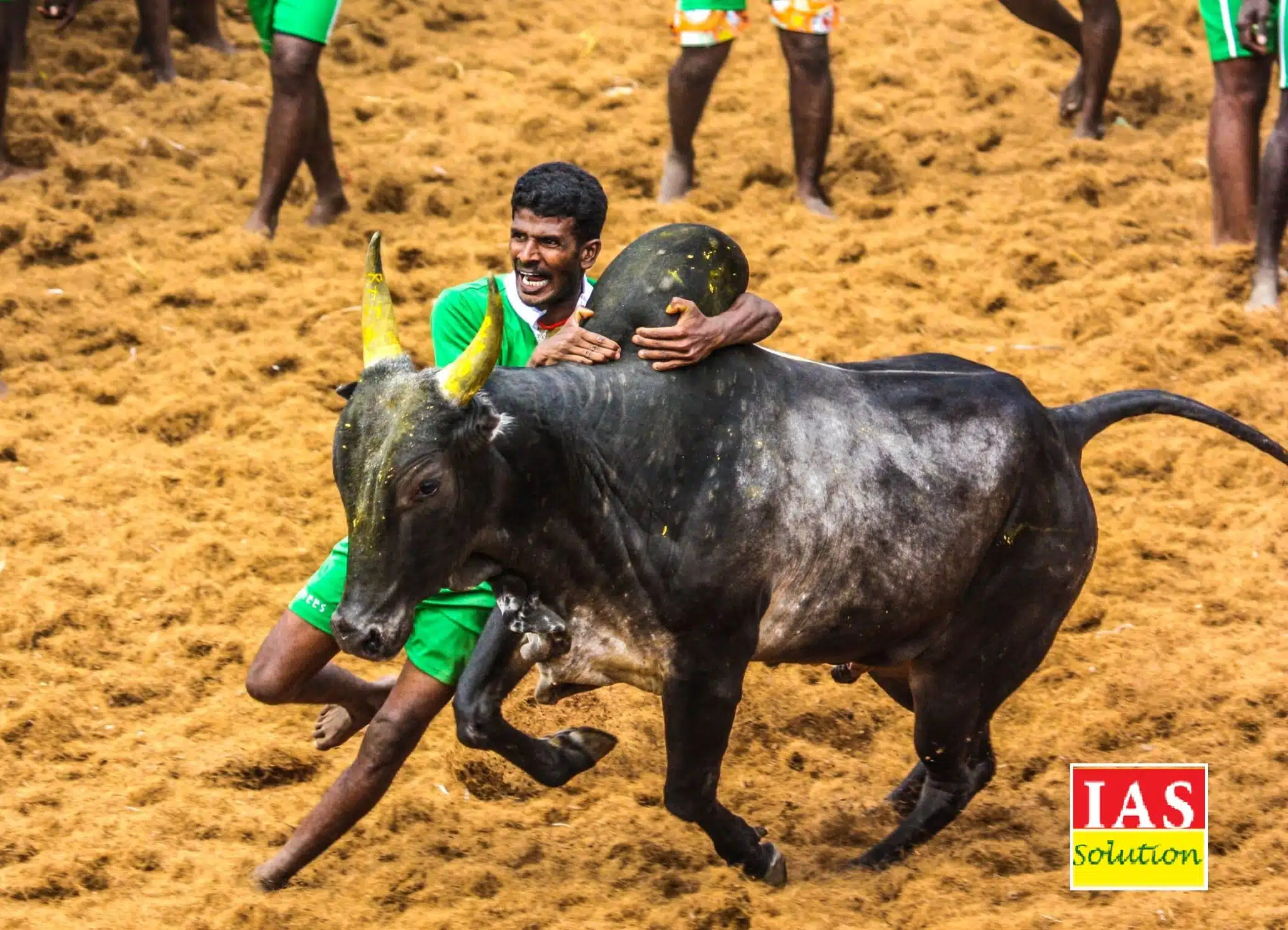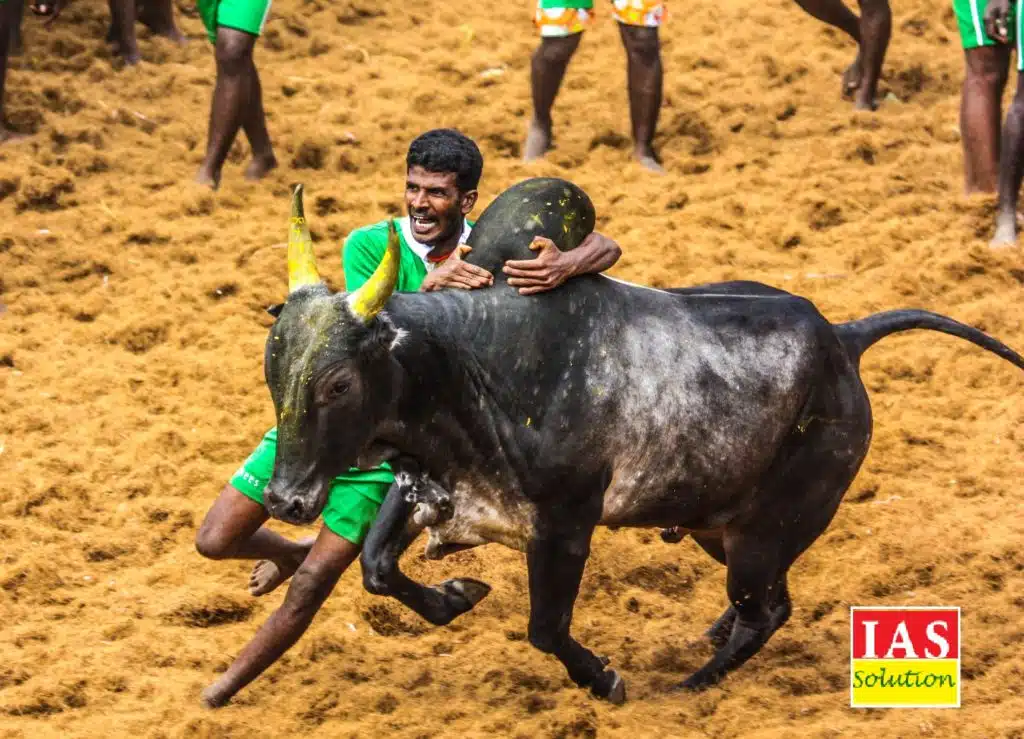 History
It is believed to be practiced during Tamil classical period, [400-100 B C].This cultural form was common among ancient Aryans who lived in ''Mullai'' region of ancient Tamil country. Later it became a platform to display bravery and price money was introduced those who tames the bull.
Jallikattu Regulation Act
By the introduction of Jallikattu regulation act by Tamil Nadu legislative in 2009, the following activities were introduced.
Thirty days prior to the event, written permission should be obtained from the respective collector. The event location should be mentioned in the notification.
The area were bulls pass through should be double barricaded in order to avoid injuries to by standers.
Gallery should be build along the double barricades.
Prior to fifteen days , necessary permissions to be obtained from the collector for participants and bulls.
Before the event, a complete checking from the animal husbandry department for ensuring that no liquor, drugs or other irritants were used on bulls.
Controversial issues  
A controversy arise between organizations like People for the Ethical Treatment of animals [PETA] and Jallikattu organizers. The PETA argues that the bulls were deliberately disoriented . Moreover, the bull's tails  were allegedly bitten and twisted, bulls were stabbed and dragged on ground. In fact, they are arguing that cruelty is being done on bulls.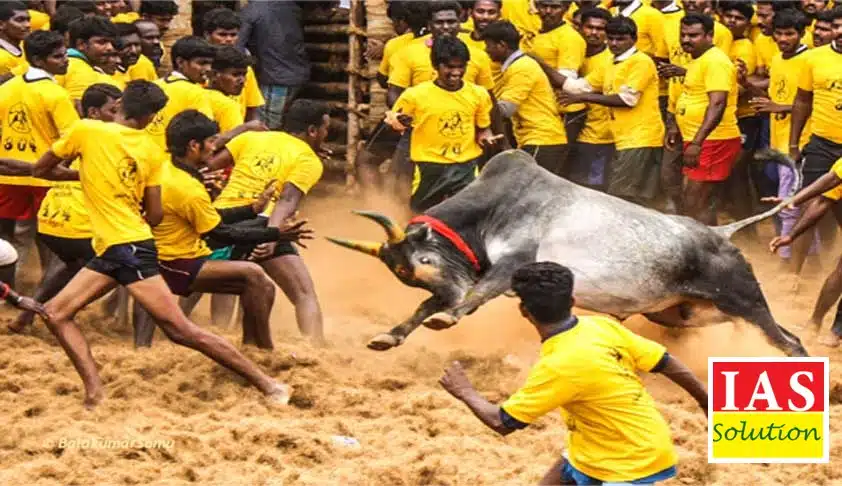 Tamilians , on the other hand protesting the bans due to the fact that Jallikattu is a part of ancient Tamil tradition. It is carried for many years in Tamil Nadu.
Want to Clear IAS Exam in 2024?
Take IASSolution Mock Exams; Be a Master!
Take a FREE Test
These controversies began in 2011 and it fueled up in last year when Ministry for Environment amended its earlier notifications. It stated that Jallikatu to be organized irrespective of the imposed bans. This was seen in direct contravention with Supreme Court order and challenged by PETA.
PETA argues that it is fundamental duties of citizens of India to have compassion for all living organisms and protection of wild life. Furthermore, this sport threatens life of people and leave them with life long injuries.
What protesters want ?
Mostly young students and professionals who protest on the ban argue that their fight is for preservation of Tamil pride and cultures. Besides this, they reject the arguments of various animal welfare organizations that cruelty is done on bulls.
The protests say that the law on cruelty on animals should be amended , Jallikattu bulls to be included with the list of trained animals for military ,educational and scientific purposes. Furthermore, pro Jallikattu activists   claim that this enables to conserve indigenous cattle breeds.
Recent happenings 
On 8 th January 2016, the ministry of environment and forests permitted to continue Jallikattu event under certain conditions.
On 14 th January 2016 , the apex court issued a stay order upholding the ban after hearing the plea from PETA.
This stay order lead to protests all over Tamil Nadu where as Supreme Court refused to review its decision until 26 july 2016.
On 16 th January 2016, World Youth Organization [WYO], protested in Chennai demanding the ban on PETA in India.
On 8 th January 2017, several thousands conducted a rally on Chennai marina beach opposing the ban on jallikattu.
Due to these protests, on 21 st January 2107, the governor issued an ordinance to conduct jallikattu.
On 23rd January Tamil Nadu legislative assembly passed a bi partisan bill, exempting jallikattu from cruelty to animals acts[1960].
The legal jallikattu organized on 1st February 2017 at Alanganallur and Madurai districts of Tamil Nadu.