Anudeep Durishetty – Know more about the IAS Topper 2017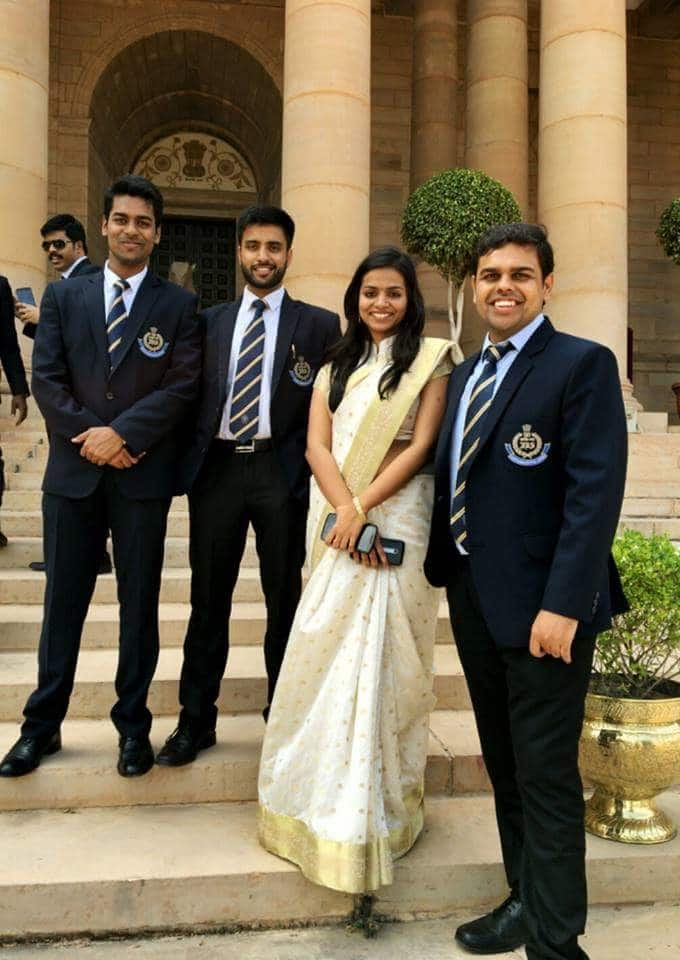 Anudeep Durishetty secured rank 1 of prestigious UPSC Civil Service Exam 2017. Around 10 lakh students applied for 2017 IAS Exam. His mark sheet is excellent in both Mains and Interview. Anudeep Durishetty topped this exam by competing around 5 lakhs candidates those who appeared. He is basically from Hyderabad.
Anudeep Durishetty – An IRS Officer from 2013 Batch
In UPSC Rank list he named as Durishetty Anudeep, though he called Anudeep. He is an electronics engineer from BITS Pilani.
Anudeep worked at Google's Hyderabad office as a software engineer before he joins IRS in 2014. He got selected to IRS in his second attempt. After that, he tried to get IAS in consecutive years but he failed to succeed.
He appeared as OBC candidate in UPSC Civil Service Exam.
Anudeep's father D Manohar is working as an assistant divisional engineer in  Telangana Northern Power Distribution Company Ltd and his mother D Jyothy is a House-wife hales from the backward area of Metpalli in Jagitial district.
He is already a civil service Officer working as Assistant Commissioner, Indian Revenue Service, Government of India.
He is an avid traveler and a sports lover.
Anudeep relied on self-study along with his job.
Anudeep Durishetty – Prelims Mark Sheet
Anudeep Scored 108.66 in General Studies Paper 1 and 141.68 in General Studies Paper 2 while cut off marks for General category is 105.34. GS Paper 1 alone will be considered for minimum qualifying marks (cut off marks). In CSAT paper, candidates need to secure 1/3rd of total marks(paper-2), ie 66.66 marks out of 200.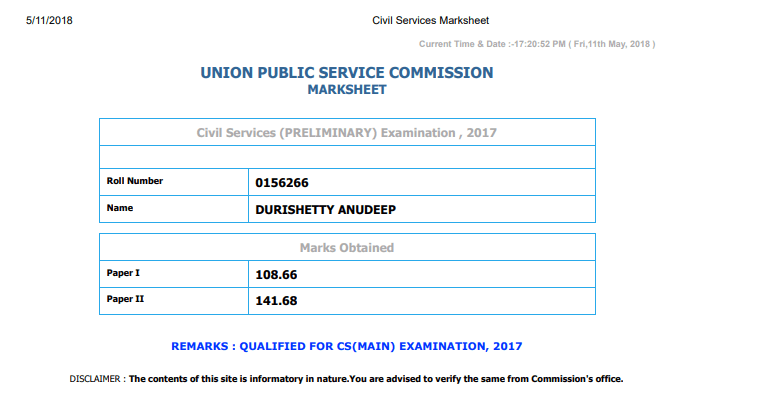 Want to Clear IAS Exam in 2024?
Take IASSolution Mock Exams; Be a Master!
Take a FREE Test
Anudeep Durishetty – Previous attempts and Performance
He secured 790th rank in 2013 UPSC Civil Service exam and got selected to Indian Revenue Service. For this best performance, he took 5 chances to crack UPSC CSE.  He opted Anthropology as his optional subject.
Anudeep Durishetty's First Response
He said, "Being topper in UPSC Civil Service Exam is thrilling Experience, the news does not yet sink to my mind"  when contacted by phone.
Anudeep Durishetty's Interview
IRS Officer topped the exam in the 2nd consecutive year
Last year Nandini K R an IRS officer topped the Civil Service Exam 2017. In 2014 also  Ira Singhal an IRS officer topped the exam. This year also the success journey of IRS officers to topmost rank is continuing! Who is next ! 🙂