UPSC Prelims Test Series 2021 – Are you searching for the Best Online Mock Exam Solutions?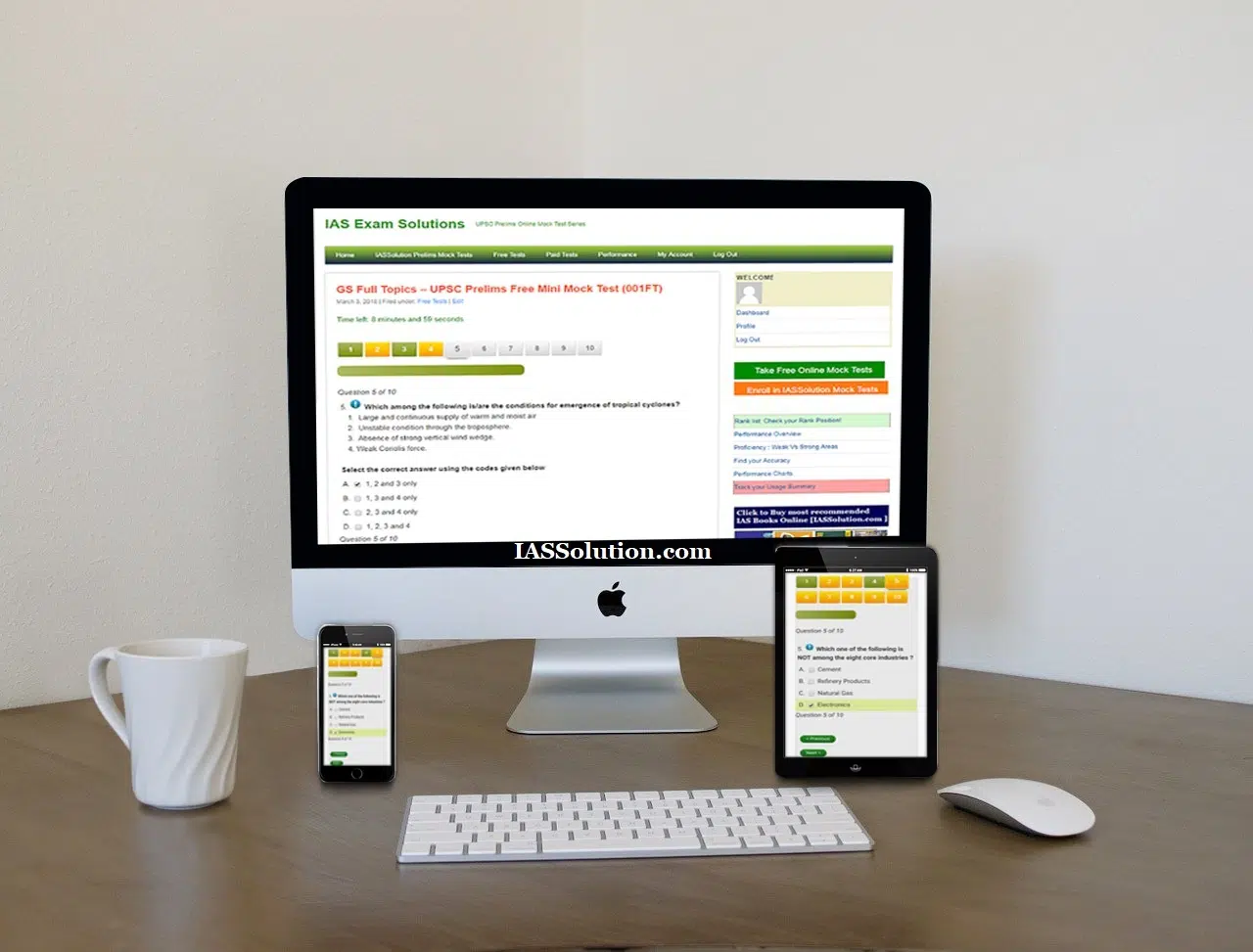 Preparing to sit IAS Exam in 2021? Then start your preparation at the right time with the best UPSC Prelims Online Mock Test Series Preparation Platform – IASSolution
We launched the online prelims Test series for the year 2021. Registrations are now open for IASSolution Prelims Test Series 2021( 40 online tests). The validity of the package is 1 year up to  UPSC Prelims 2021 Exam Date.
UPSC Prelims Test Series 2021 – IASSolution Mocks
In the UPSC Prelims Mock test series niche, IASSolution is one of the most trusted popular platforms in online preparation space. Why?
Flexibility to take Mock Tests when you desire
A top-notched detailed Timetable with Study Plan
Current Affairs Mock Tests included in IASSolution Prelims Test Series
Separate CSAT Mock Tests Package
Best Test Series in Return of Investment(ROI)
Most Economical Premium UPSC Test Series
Detailed Solutions and Answer Keys for reference and revision
Timed Mock Tests with negative marking
Detailed Performance Reports Self Analysis
All India Rank Lists for every mock Tests and lot more
Pan India Competition Platform
Are you an IAS Aspirant Preparing for UPSC CSE 2021?
We presently offer two batches IASSSolution Prelims Test Series 2021 Program
May 2020 – June 2021 (First Batch)
October 2020 – June 2021 (Second Batch)
Both batches consist of 40 Online Mock Exams of GS Paper 1 @ Rs 8999 Rs 2999. Aspirants can join any of these batches as you wish. You will get already uploaded and upcoming mock exams after enrollment.
IASSolution UPSC Prelims Test Series 2021 Timetable – Schedule of Mock Exams
Schedule of IASSolution Prelims Mocks are now available in the link.
You can also refer the PDF Version of 2021 timetable for the quick reference.
IASSolution Prelims Online Test Series 2021: Important Links
Freedom to take Mock Exams When you desire!
Aspirants can take already uploaded exams at any time they wish to sit for the exam before Prelims 2021. We stick to a timetable of our full-length mock exams but once each exam is uploaded, aspirants can take exams as per their convenience.
This would assure flexibility in attending exams as per the need of every aspirant. For instance, if you did not complete reading as per a detailed schedule then you can postpone to a further date to give the exam.
Students, working professionals, and full-time aspirants can avail of this facility at your convenience.
Detailed Solutions and Answer Keys for reference and revision
Answer keys and detailed solutions will be provided soon after each mock exam. This detailed solutions can also access later for revisions at any time before the prelims exam date.
Want to Clear IAS Exam in 2024?
Take IASSolution Mock Exams; Be a Master!
Take a FREE Test
Answer Keys and Solutions are available in my account link.
Detailed Performance Reports Generated soon After the Exam
You can analyze your detailed performance through various reports which includes
Learn, Test, Analyse and Revise until you can't get it Wrong
Our detailed schedule will fetch you how, when, and what you need to study. First, you need to read thoroughly through the prescribed books. Practice tests, learn from your mistakes, and reduce the errors after each mock exam.
You are learning new facts through Knowledge Zone which is designed for detailed solutions.
Aspirants can identify their weak and strong areas of exam preparation through IASSolution Intelligent Analysis Tools.
Revision can be done through my account section at any time.
Enrolled Users of IASSolution Prelims Mock Test Series 2021 will get access to already uploaded mock exams and upcoming mock exams
If you enrolled for IASSolution Online Prelims Test series, you will get
Immediate access to all uploaded mock exams in the test series package at any time.
Automatic pass to upcoming scheduled mock tests without any payments.
Freedom to attend tests in IASSolution Prelims Test Series 2021 as per the convenience of test-takers until the date of UPSC Prelims 2021, when the validity expires.
Free entry to the Seminars and Facebook lives/webinars when it begins!
How to take IASSolution Mock Tests
First, you need to register in the mock exam platform using your email id and password. Registered users can take free and mock tests after login to IASSolution Mock Test Platform.
Previous year registered candidates can use their account with the same user-id and password.
If someone has forgot the user id or password then they can simply reset the password using lost password option.
Get Exam Guidance, Priority Support, Preferences, and other Privileges
Our paid users will get personal exam guidance over email and Facebook messages.
Our team will ensure to clear all your doubts and replies to your relevant queries.
Your exam performance will be evaluated by experts and will provide tips to enhance your marks in the prelims cum mains exam.
Prelims Cum Mains Integrated Approach to IAS Exam Solutions
IASSolution Prelims Test Series is designed to face the Prelims as well as Mains Exam.
Following the detailed timetable, you will cover the mains topics when you prepare for Prelims Mock Tests which will give you an upper hand over other IAS Aspirants.
Enroll now to get the full advantage of start preparations early.