IAS Solution Crossed 100000+Facebook followers
We are glad to inform you  that IAS solution crossed one lakh Facebook followers  and its website traffic and popularity is increasing quickly. In this occasion, IAS solutionTM  would like to express sincere gratitude to all aspirants for their enthusiasm and encouragement. We are sharing our articles as well as study materials on popular media like Facebook, Google+,Twitter and so on. All this was possible through the immense support from IAS aspirants.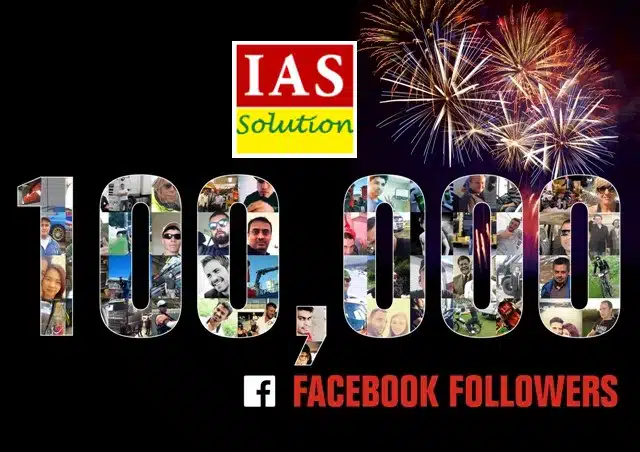 A short note about IAS Solution
IASSolution.com is an competitive exam guidance platform specially dedicated to UPSC IAS Exam preparation with an intent to guide and  help  aspirants in a  right way.
IASSolution.com provides free guidance & online coaching, IAS books,strategies, mock tests(coming soon) and free study-materials with a desire to provide guidance to upsc aspirants those who can't afford expensive UPSC IAS coaching .We are committed to provide quality coaching.
Want to Clear IAS Exam in 2024?
Take IASSolution Mock Exams; Be a Master!
Take a FREE Test
IAS Solution Facebook  page
Our website (www.iassolution.com) connected to facebook page IAS Solution so that every article we published is automatically shared on facebook. Besides these, we share current affairs, strategies , study materials , mock test series of UPSC as well as other relevant information on our page.
Begin more than one lakh followers, adds our responsibility for ensuring right guidance. IAS solution is an online platform to provide proper guidance and approach to all aspirants. Furthermore, our main motive is to provide quality guidance to those individuals who cannot dream of IAS due to their financial constraints.
Our vision and mission
To provide quality coaching and guidance to all aspirants, outside class room atmosphere.
Focusing on youths from rural areas as well as with financial barriers, because of which hindering their carrier pathway.
Be an online platform to provide study materials, guidance and approach and evidenced based learning atmosphere.